International Symposium" Asian American Literature & Asia: Citizenship, History, Memory, Diplomacy"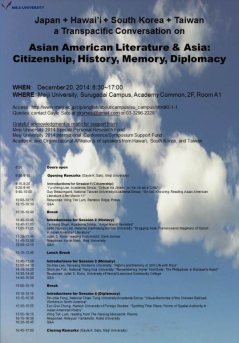 " Asian American Literature & Asia: Citizenship, History, Memory, Diplomacy"     
Asian American literature is a body of writing that captures and analyzes, in a way unique to literary texts, the desires, struggles, achievements, and failures of individuals and communities caught up in the watershed events of Asian/American transnational histories from the mid-19th through the 20th century, including how to represent and remember the Asia Pacific War. As such, Asian American literature is a key, but as yet underdeveloped, archive for intellectual collaboration across national borders within Asia. It is an archive that can be put in the service of peaceful discussion between East Asian nations for the purpose of working out mutually acceptable understandings of contested historical memories and divergent political goals. This symposium will bring together leading critics and creative writers from four Pacific Rim countries (Japan, Korea, Taiwan, USA/Hawai'i), who will discuss their current projects in Asian American literature (see presentation titles in program box below). It will be the first time that such a critical mass of Asia-based scholars in the field of Asian American literature will be assembled at a Japanese university. Meiji University can, therefore, seize this opportunity to become a port of entry for a different kind of inter-Asia dialogue in the 21st century—a dialogue whose goal is to sustain, via academic discourse, a continuous, genuinely critical, and yet civilized examination of inter-Asia histories.
Please download the poster for more details here
⇒ (
WHEN & WHERE & PROGRAM
)