Participation by MU students in the Japan-America Student Conference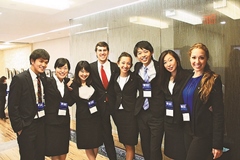 Last summer, the 66th Japan-America Student Conference was held in the United States. The Conference is a forum of lively discussion by Japanese and US university students on various problems facing the world while living together with each other. Students from Meiji University also took part in the last installment.
<The Japan-America Student Conference - JASC>
The JASC was Japan's first organization for international student exchange. It was founded in 1934 for the improvement of sentiment toward Japan in the United States and rebuilding of ties of mutual trust between the two countries. Behind its founding lay the conviction that "world peace depended on peace in the Pacific region, and that peace in the Pacific region depended on peace between Japan and the United States, and that students should play a part of it."
Equal numbers of students from Japan and the United States engage in various discussions and activities while living together for about one month, in order to deepen mutual understanding. Notable participants in the past programs include former Japanese Prime Minister Kiichi Miyazawa and former U.S. Secretary of State Henry Kissinger.
Official website:
http://kjass.net/jasc-japan/