The world is wide! Students from other countries take part in an interchange program at an elementary school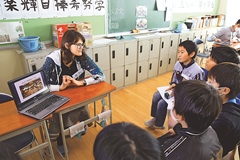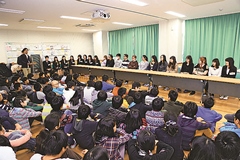 On February 12, the student committee on international exchange in the Graduate School of Global Japanese Studies held a program for interchange between Meiji University students from other countries and students of Midorino Elementary School in Tokyo's Nakano Ward.Organized by concerned students themselves, the committee planned this program together with Midorino Elementary School, for the purpose of intercultural communication between the non-Japanese students enrolled in the highly cosmopolitan Graduate School of Global Japanese Studies and elementary school students.
 This was the second installment of the program, which was first held in 2014. It attracted the participation of 12 students from the United States, France, Austria, Vietnam, China, South Korea, Taiwan, and Hong Kong. These students deepened exchange with 78 sixth-grade students at Midorino Elementary School.