Holding of a Model UN by concerned students to address global issues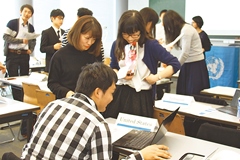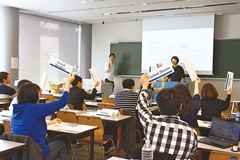 On February 4, concerned students volunteered to hold a Model United Nations meeting on the Surugadai Campus. The students had completed Liberal Arts for Global Common, a Human Resource Development Program for International Cooperation. This program can be taken by any students, regardless of the Meiji University school in which they are registered.
Titled "Thinking about Box Lunches Distributed to UN Personnel," the morning session of the Model UN meeting was devoted to recreation. The afternoon session was titled "Comprehensive Measures for the Land Mines Problem," and stimulated heated discussion in English that was reminiscent of the real UN.