Holding of the annual World Cities, World Class University Network (WC2) meeting at Meiji University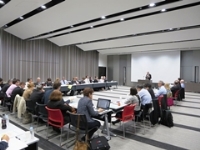 Scene at the general meeting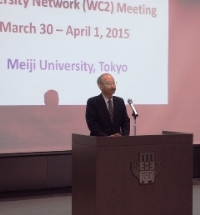 Opening remarks by President Fukumiya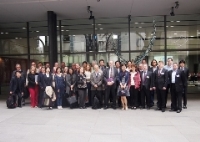 Commemorative photo with all the participants (before the Global Front, which was the meeting venue)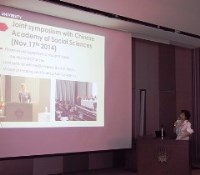 Presentation by Vice President Katsu (Meiji University Show Case)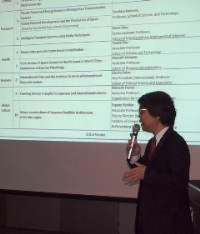 Opening remarks by Vice President Yamamoto (Meiji University Show Case)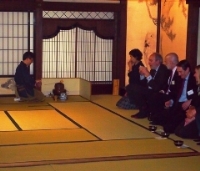 Farewell party (at left in the photo: Dr. Minobe of the School of Global Japanese Studies
Over the three days from March 30 to April 1, 2015, the 10th annual meeting of the World Cities, World Class University Network (WC2) was held at the Global Front on the Surugadai Campus of Meiji University.
The WC2 is a network linking urban universities located in major cities around the world. It is divided into several clubs that promote research interchange on issues faced by all major cities in common. As of March 2015, it had a membership of 12 universities in 12 countries. After participation in it with an observer status, Meiji University became a formal member in December 2013. This was the first time for it to lead the annual meeting in Tokyo as the host school.

On the first day, Meiji University Vice President Etsuko Katsu (Director of International Collaboration) served as moderator of the proceedings, which opened with remarks by President Kenichi Fukumiya. Dr. Fukumiya voiced his wishes for the activities of the WC2, which provides a platform for lively discussion and exchange of ideas on a periodic basis at key universities in various countries. President Fukumiya was followed by Takao Yoshida from the Tokyo Metropolitan Office of the Governor for Policy Planning, who delivered a keynote speech on urban policy in and the future vision for Tokyo as a global city, as well as the forthcoming 2020 Tokyo Olympics.

During the three-day run of the meeting, Meiji University faculty members also took part in earnest discussions in the club sessions. They also proactively strengthened their ties of networking with other researchers. Of particular note was the Meiji University Show Case, which was held on the second day (March 31). Opening remarks by Meiji University Vice President Masahiro Yamamoto were followed by presentations by eight members of the MU faculty, who vividly highlighted research activities at the school. (From the Meiji University Show Case program)

On the afternoon of April 1, the last day of the annual WC2 meeting, a farewell party featuring a genuine tea ceremony was held at the Okyo Building of the Tokyo National Museum in Ueno Park, with the cooperation of Dr. Hitoshi Minobe, School of Global Japanese Studies, and the Meiji University Tea and Flower-Arranging Research Group. The party gave the participants a firsthand taste of the profoundness of the tea ceremony and the sentiments imbuing the beautiful room in which it was staged. They were thoroughly satisfied with Japan's "hospitality culture" before departing for home.

In August 2015, City University London (CUL) is planning to host a summer symposium. Faculty members and researchers from Meiji University are anticipated to participate in it. Meiji University is actively involved in such international interuniversity networks. As an urban university open to the world, it is further deepening its research activities.