FY2014 meeting for reports by returning UN youth volunteers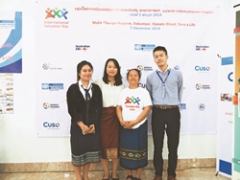 On March 19, a meeting for reports by students who had participated in the UN Youth Volunteers Program was held at the United Nations University (in Shibuya Ward, Tokyo). At the meeting, Yasunori Hatanaka, who had been sent to Laos from the School of Political Science and Economics of Meiji University (fourth year), delivered a report on his activities over a period of approximately five months.
The UN Youth Volunteers Program rests on partnership between the United Nations Volunteers (UNV) Program and universities. Under it, university students are sent to do volunteer work in developing countries. The program gives students an opportunity to take up the challenge of solving issues on a global scale, and is aimed at nurturing the growth of future leaders.