Group Banner Presented to Shikon Group in Los Angeles, became the Largest Overseas Shikon group with Over 200 Members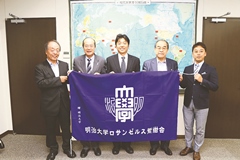 On June 24, Meiji University presented a group banner to the Shikon group in Los Angeles, whose establishment was approved by the Meiji University Alumni Association.With this addition, there are now 17 overseas Shikon groups, which are organized by Meiji University alumni active in various countries and regions around the world (excluding the Korean and Taiwanese chapters of the Alumni Association).
The history of Shikon group in Los Angeles dates back to 1962.The group, which was started by roughly 100 Meiji University alumni, now has over 200 members, making it the largest Shikon group.It has actively supported welcoming Meiji University students and faculty members because of its long history and because the group has more permanent residents than resident employees for companies.
Mr. Miyamoto, the group's representative who received the banner, in addition to expressing his gratitude, had the following to say: "Everyone in our group has an open personality just as the clear and blue sky in Los Angeles. I will continue to work hard to make Meiji University even more well known locally".