Raising Awareness about World Refugee Day (June 20): special exhibit and screening held on Izumi Campus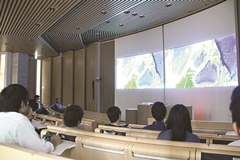 Meiji University, with the cooperation of the Japan office of the United Nations High Commissioner for Refugees (UNHCR), held a special exhibit from June 8 to 22 in the Izumi Campus Library. The dates were planned so that it would be around the time of World Refugee Day, which is June 20. In addition, related documentaries were shown on June 18 in conjunction with the special exhibit.
"All Item Recycling," in which Meiji University student volunteers collect used clothing and send them to refugee camps through casual wear retailer Uniqlo, as well as an exhibit on "Meal for Refugees (M4R)," an activity for sharing the taste of local cuisine of the homeland of the refugees by serving them in the university dining hall, were also held.
In July 2010, Meiji University concluded a partnership agreement with the United Nations High Commissioner for Refugees (UNHCR). The partnership was for the Refugee Higher Education Program, a special enrollment program for refugees.Starting in the 2011 academic year, two refugees have been accepted for enrollment each year.Since 2012, Meiji University has cooperated with organizing the Refugee Film Festival (7th to 9th), which is hosted by UNHCR.