Cultural Exchange Program through Cooking Held in Collaboration with Nakano Ward Neighborhood Association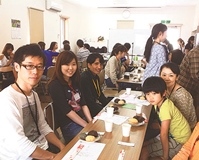 On May 24, the International Exchange Student Committee of the School of Global Japanese Studies, through partnership with Shirasagi-cho Neighborhood Association, Nakano Ward, held a cultural exchange program entitled "Hong Kong Cuisine Cooking Class: cultural exchange program hosting Meiji University's International Students and students from Japanese language schools." The event took place at Shirasagi-cho Neighborhood Association Community Hall.Association members (Japanese students and international students) enjoyed spending time with community residents and Japanese language school students through activities such as cooking.
From Meiji University, aside from association members, six international students from six different countries (the United States, Canada, Singapore, Korea, China, and Taiwan) participated in the program.During the event, the participants made Sanshoku Ohagi (tri-colored sweet rice cakes) while helping one another and enjoyed eating the Hong Kong style hamburgers and fish soup, which the Japanese language school students from Hong Kong cooked while providing detailed explanations. The program also consisted of a fashion show which was performed by the Cambodian students as well as speeches in Japanese which were delivered by international students from China and Taiwan. The program was a huge success.