Professor Emeritus Masao Mukaidono (Chairman of the Meiji University Alumni Association) awarded the Prime Minister's Commendations on Contributors to Public Safety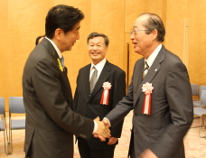 After the ceremony, Professor Emeritus Mukaidono shook hands with Mr. Abe.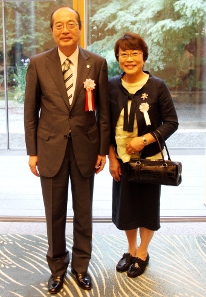 At the Official Residence, with his wife, Harumi
Professor Emeritus Masao Mukaidono (Chairman of the Meiji University Alumni Association), an expert in the field of safety science in Japan, received the 2015 Prime Minister's Commendations on Contributors to Public Safety. On July 1, National Public Safety Day, the commendation ceremony was held at the Prime Minister's Office, and Professor Emeritus Mukaidono was presented with a certificate of commendation by Prime Minister Shinzo Abe.

The commendation honors people who have significantly contributed to service for assurance of public safety in fields such as industrial and traffic safety. Professor Emeritus Mukaidono served as Chairman of the Product Safety Committee under the Consumer Affairs Council of the Ministry of Economy, Trade and Industry, and Chairman of the committee for METI Minister's Awards for Best Contributors to Product Safety. In these and other capacities, he has strived for the establishment of systems and standards related to product safety in all fields. His selection reflected recognition of his achievements, in the form of his tremendous contribution to improving product safety in Japan.

At the ceremony, certificates of commendation were handed by Mr. Abe directly to the recipients in the fields of traffic safety, school safety, industrial safety, and fire prevention. Professor Emeritus Mukaidono received the certificate as the recipient in that of industrial safety.

In his comments after presenting the certificates, Mr. Abe expressed his thanks for the tireless efforts of the recipients and noted that, although traffic accidents were decreasing, some 40,000 people nevertheless lose their lives every year in Japan due to unforeseen accidents.He concluded his comments by asking the recipients for their further cooperation: "I request you all to continue conducting your awareness-raising activities on safety. I hope that you will enjoy even greater success in the future."


Toward the establishment of safety science – Masao Mukaidono, Professor Emeritus and Chairman of the Meiji University Alumni Association

My research related to safety began with my safety studies on railway signals during my years as a graduate student.Thereafter, while being involved in education and research in the field of information science and working inside and outside the university, I continued to discharge duties and examine all sorts of works and accidents in the fields of product safety, machine safety, and labor safety.
Out of the desire to do research and work that contributes to society, I simply continued doing what I wanted to do, and ended up being honored with the Prime Minister's Commendation. My life has indeed been a fortunate one.I realize this would not have been possible without the support from all at Meiji University, safety-related institutions, and my colleagues.To all of them, I am deeply grateful.
In the future as well, I am determined to do whatever little I can to assist establishment of safety science as a total branch of safety-related learning, for assurance of safety and peace of mind in society at large.