Open Lecture "Chanel, Dior, and Saint Laurent" Held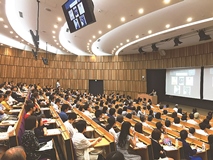 An open lecture entitled "Chanel, Dior, and Saint Laurent: the brand founders and brands today" was held on June 17 on Nakano Campus. The lecture was organized by Liberty Academy (collaboration: Nakano Ward), and a diverse audience of over 400, which was the maximum number of people who could sign up for the lecture, listened attentively as Professor (non-tenured) Kaori Nakano of the School of Global Japanese Studies, an expert on fashion history, delivered her lecture. In her lecture, Professor (non-tenured) Kaori Nakano talked about the lives of three designers who had a major influence on 20th century fashion, as well as their lives and achievements, while also providing an explanation of the historical background.

Nakano stated in her lecture that the achievement of Yves Saint Laurent, whose skills were recognized at a young age by Christian Dior, was that he was the first designer who used non-white models, who at the time, did not even appear on the cover of fashion magazine Vogue. She also touched upon the Saint Laurent did this, which was not for political correctness but because, as Saint Laurent himself put it, "they are beautiful."
Nakano closed her lecture by saying the following: "All three founders, rather than striving for "premium products" by combing various specifications, lived luxurious lifestyles and were not competing with anyone. I hope that you will feel inspired by these unprecedented designers who transformed the industry while taking in the values of the generation. Her lecture on the pioneers of the people's fascination with brands came to a close on a very high note.