Open Lecture Entitled "What it Means to Perform 2015" (Guest speaker: Tamasaburo Bando)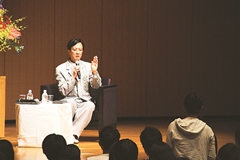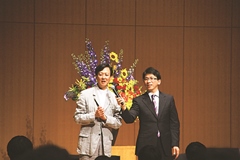 An open lecture entitled "What it Means to Perform 2015" was held on June 8 at Academy Hall on Surugadai Campus. The lecture was organized by Liberty Academy and the guest speaker was a Living National Treasure Tamasaburo Bando, one of the most well-known onna-gata (male actors who play female roles) of the kabuki world.
During the question-and-answer session with students, an international student from China asked the following question: "You once said in a television program that we should live our lives by thinking only about today and tomorrow, which left a lasting impression on me. But what about the day after tomorrow?" Although there were some chuckles in the audience by this straight forward question, Mr. Bando gave a sincere answer. "If we don't live today and tomorrow to the fullest," he said, the day after tomorrow will not come and neither will the future. That's a great question."
The lecture consisted of two parts: Mr. Bando's talk and a one-on-one dialog between Mr. Bando and School of Arts and Letters Professor Takashi Saito. The over 1,000 people in the audience, which included students, were in awe of Mr. Bando's bold but subtle character.