Dispatch of foreign students to an elementary school in Nakano Ward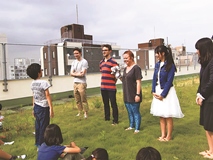 Representatives of the international exchange student committee in the School of Global Japanese Studies at Meiji University (GJS Student Committee) made visits to Nakano Ward Tohnoyama Elementary School together with students of various nationalities recruited from inside and outside the School. The visits numbered three, and were made on June 12, June 22, and July 6.  It is the objective of this program to promote interchange and deepen mutual understanding between foreign nationals studying at Meiji University and elementary students in the neighborhood. This program was first implemented in the preceding academic year by the Committee with the cooperation of an elementary school in Nakano Ward.  On the first visit (June 12), four students from France, Australia, and China went to the school. Although the atmosphere was rather stiff and tense at first, both sides gradually loosened up. During the Q&A session, the children asked the foreign students what they found surprising about Japan at first, and were themselves surprised to hear that it was the handiness of convenience stores.

On the second visit (June 22), seven students from Australia, the United States, Republic of Korea, Hong Kong, China, Thailand, and Vietnam met with the children at the school.
The children taught the foreign students a total of 12 traditional Japanese types of play, including the stacked Dharma game, top-spinning, and Japanese-style badminton. The interchange was even deeper than during the first visit.

The third and final visit (on July 6) drew the participation of 11 students from Thailand, the United States, Hong Kong, Vietnam, Australia, France, China, and other countries. The children broke into groups and introduced the students to elements of Japanese culture in a wide range of areas, including food, apparel, and traditional crafts. When the program was over, both the students and children seemed sorry to part.