Meiji University Open Campus 2015 -record-high turnout of about 60,000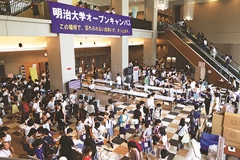 At the Surugadai Campus, participants numbered more than 10,000 on each of the three days.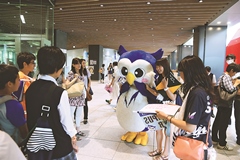 Meijiro was a big hit with the students (at the Nakano Campus).
Meiji University Open Campus 2015 was held on each of the three Meiji University campuses (Surugadai, Ikuta, and Nakano) for a total of seven days in August.In this annual mid-summer program, the campuses are thrown open to students who will be taking college entrance exams later in the year, to give them a glimpse of university life.This year's installment attracted a record-high total of 59,245 participants.The vicinity of the event was thronged with high school students and their parents or guardians, day after day.

The campuses conducted a variety of programs including all sorts of counseling regarding Meiji University for parents or guardians, each school and entrance exams for the students, mock classes, open dialogue involving Meiji University students, campus tours, and individual consultation.

Through the program, the students came into contact with the character of Meiji University and the atmosphere on each campus. Their minds seemed to be filled with great expectations of campus life as they left the grounds.