Short-term Student Exchange Program with Vietnam 2015 Held -School of Information and Communication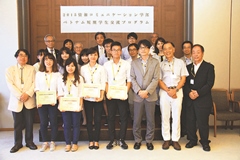 The Vietnamese students with the Meiji University Student Supporters
Over the period of July 6-20, the School of Information and Communication accepted four students from the Japanese department of the Oriental Language and Cultural Studies Faculty of the University of Languages and International Studies - Vietnam National University, Hanoi, for a short-term study program consisting of classes on the Japanese language, tours of facilities, and student interchange. The program was implemented with support from the Meiji University Parent's Association and the Alumni Association.

Besides attending classes in the School of Information and Communication, the students from Vietnam stayed at the Yamanaka Seminar House and took a tour of Japan's National Diet together with six undergraduate students who are registered as Student Supporters providing back-up for students from other countries during their residence in Japan.The program is aimed at heightening skills in the Japanese language as well as learning about Japanese culture by actually experiencing it.

In June, too, the School of Information and Communication accepted eight students from partner universities in Thailand and Laos who were majoring in the Japanese language for a similar short-term program. More specifically, the Thai students were from the Faculty of Humanities of Srinakharinwirot University, and the Laotian students, from the Faculty of Letters of the National University of Laos.

Meiji University aspires to continue assisting the development of human resources who will serve as bridges between Japan and member-countries of the Association of Southeast Asian Nations.