Conclusion of an agreement on an internship program between the Meiji University School of Political Science and Economics and the Australian Koala Foundation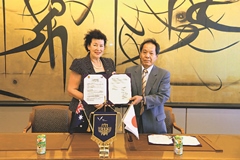 Dr. Toshio Suzuki, Dean of the School of Political Science and Economics with Ms. Deborah Tabart (CEO of AKF)
On July 23, the School of Political Science and Economics concluded an agreement on cooperation in an internship program with the Australian Koala Foundation (AKF, headquartered in Brisbane, Australia), the world's biggest organization for protection of koalas.
Under this program, the students are expected to present the findings of research they conducted themselves on the critical situation now faced by wild koalas, solutions for the same, and the inherent economic value of the koala as iconic Australian wildlife.
The School's students will be allowed to participate in AKF internship programs for up to 13 weeks during their study at Australia's Queensland University of Technology, one of Meiji University's partner universities.