World Cities World Class University (WC2) network -Holding of the London Summer Symposium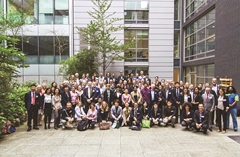 From the 10th to the 14th of August, a summer symposium for the World Cities World Class University (WC2) network, of which Meiji University is also a member, was held at the City University London business school. With some graduate students among the participants, the symposium was the first under the WC2 program and brought together a total of 150 teachers and students from 10 universities. The participants deepened discussion in their respective fields.

On the first day, there was a plenary session devoted to discussion on active utilization of the legacy of the London Olympics in the city as well as cases of partnership with universities and between universities and the city government. From the second to the fifth day, teachers and graduate students led sessions in each of five fields (business, health, eco-campus activities, transportation, and global culture).

London is exhibiting an even higher degree of vitality through utilization of its post-Olympics legacy, and the staging of the symposium there is anticipated to induce a further deepening of the interuniversity network.