Launch of an official Meiji University site on SINA Weibo, the Chinese version of Twitter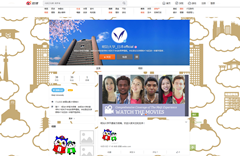 On October 13, Meiji University launched an official account page on SINA (Xinlang) Weibo, the No. 1 social media service in China.

Sometimes termed "China's Twitter," Weibo ("wei" meaning "mini," and "bo," "blog") is a SNS that began providing services in August 2009. As of August 2014, it had more than 600 million users, who make up around 80 percent of China's Internet population. It reportedly attracts more than 150 million posts per day and 5 billion page views per month.
Its circle of users is by no means confined to China; many companies and noted personnel in Japan and other countries around the world make extensive use of it as a platform for information provision.

Meiji University is going to use it to spread word about its appeals, mainly to all Chinese-speaking Weibo users. Besides providing people wondering what kind of university Meiji University is with answers to their questions through the site, we urge all people who are interested in Japan, Tokyo, and study abroad as well as students now studying at Meiji University and alumni active on the global stage to take a look at it.