Meiji University held a program under "the Sakura Science Plan" with students invited to participate from Tsinghua University in China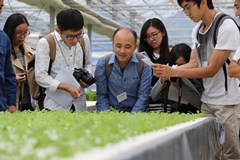 Kurokawa Farm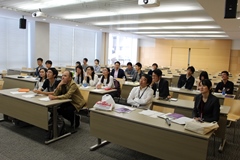 Meeting for presentation of research results (4F, Building A, Ikuta Campus)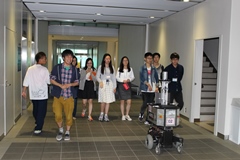 Robotics Laboratory (Building D, Ikuta Campus)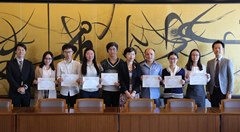 Closing ceremony (at Yashiro Misao Hall, 23F, Liberty Tower, Surugadai Campus)
Meiji University had a visit by seven students from Tsinghua University in Beijing, China for a program under the Sakura Science Plan from the 2nd (Fri.) to the 9th (Fri.) of October. The Sakura Science Plan (the Japan-Asia Youth Exchange Program in Science ) is a project implemented by the Japan Science and Technology Agency (JST), which aim is to deepen interchange among youth in Japan and other Asian countries in the realm of science and technology, and brings them into contact with the latest Japanese technology. This program was the first adoption for Meiji University.

The program consisted of visits to research and education sites applying the latest technology, such as the Meiji University plant factory, the Kurokawa Farm, and the Vibration Analysis Facility, as well as an exchange views with students of the School of Science and Technology for research. In the tours of facilities, the students heard explanations of, and were greatly impressed by, the high level and social expectations of Japanese science and technology considering everything including sustainability. The presentation meeting was precious experience that will be useful in future for both students.


Please see the Link below for information on the Meiji University project titled "Japan-China Science & Technology Exchange Program Considering Sustainability and Centered around Visits to an Advanced Plant Factory and the Kurokawa Farm" (Leader: Dr. Tomoaki Watanabe, Professor of the School of Science and Technology).