Visit to Nakano Campus by a group of Chinese high-school students visiting Japan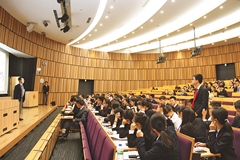 The Chinese high-school students were also eager to ask questions.
On October 13, a group of 125 high school students visiting Japan as part of the JENESYS2.0 program paid a visit to the Nakano Campus. There, they attended a seminar that was led by Dr. Masahiro Yokota, Dean of the School of Global Japanese Studies, and titled "Intercultural Education and Reduction of Prejudice – Toward the Deepening of Mutual Understanding among Diverse People."
JENESYS2.0 is a program of interchange among youth promoted with other countries in Asia and Oceania. It was announced by Prime Minister Shinzo Abe during his 2013 trip to Indonesia. It succeeds the Japan-East Asia Network of Exchange for Students and Youths (JENESYS) program implemented over the period 2007 – 2012.
The high-school students broke into four groups on the theme of international exchange and stayed in Japan from the 12th to the 20th of October. During their stay, they deepened their understanding of Japan through various activities, including visits to different parts of the country, programs of interchange with Japanese high-school students, stays at farm houses, and experience of traditional culture.