Receipt of the Good Design Special Award by Dr. Masami Kobayashi, Professor of the School of Science and Technology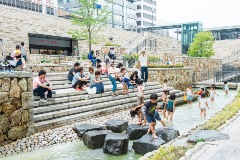 The Himeji Station Plaza North and Otemae Street Project executed by a team of experts led by Dr. Masami Kobayashi, Professor of the School of Science and Technology, was selected for one of the fiscal 2015 Good Design Special Awards (i.e., the Good Design Award of the Japan Chamber of Commerce and Industry) in the category of block and community development. The selection was announced on October 30 by the Japan Institute of Design Promotion, which sponsors the Good Design Awards.

The design was for public space in the vicinity of Otemae Street with a focus on Himeji Castle, a World Heritage site, and the plaza fronting the railway station at the start of that street. It constituted a public works project without precedent in Japan, and was realized through a process including a series of workshops with city residents. The design departed significantly from the conventional pattern equating a stationfront plaza with a transit rotary. It placed transportation services to the side, and so succeeded in creating pedestrian space on the urban axis leading straight to Himeji Castle in the distance. The elements in the design include Japan's first transit mall (allowing passage only by public transportation means and pedestrians), a sunken garden which might also be termed a three-dimensional plaza, a lawn plaza, and an observation deck for viewing Himeji Castle. While combining this diverse elemental vocabulary, the design accomplished a sweeping transformation of the stationfront area from space merely for transit to space where many people can gather, circulate, and enjoy themselves.

The Good Design Award selection panel gave high marks to the design for its good comprehension of the existing facilities and blocks, extraction of the area's potential, and rebuilding of the relation between Himeji Castle and the station. It also lauded the skillfulness of the mechanism for involvement of citizens and city authorities.

Comment by Dr. KobayashiIn Japan, design of public space through collaboration among citizens, government, and experts is still underdeveloped. It was achieved in this project, thanks to the tremendous effort by all concerned. I consider it extremely gratifying that this project has been highly rated in society as a whole.