Ceremony to commemorate 3 million visitors at the Izumi Library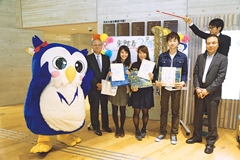 On November 4, the number of people who have visited Izumi Library topped 3 million, and a ceremony was held to commemorate this occasion at the library.
Izumi Library was opened on the Izumi Campus in May 2012 as a project to commemorate the 130th anniversary of the founding of Meiji University.Not only does the library have an extensive collection, it is also equipped with the latest facilities, including reading spaces that are pleasant and comfortable even when there for long periods and a spacious communication area where students can study while conversing with their friends. The library has also been highly regarded as a building, including being awarded the Good Design Award and various architectural awards.