Courtesy visit by the Malaysian Minister of Higher Education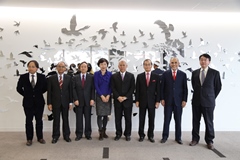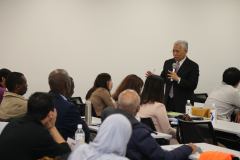 On December 14, a group headed by Mr. Dato' Seri Idris Jusoh, Malaysian Minister of Higher Education, and the vice chancellor of Universiti Teknologi Malaysia (UTM) visited Global Front on the Surugadai Campus. Mr. Jusoh held a lecture after conversing with Meiji University representatives.
In his lecture, Mr. Jusoh introduced the achievements of the higher education system in Malaysia. He also explained the world's first grade point average based on the iCGPA and the 2u2i program of practical learning, in which university students spend 2 years each of their 4-year university life in classroom education and corporate internship.
After the lecture, the group visited the UTM Satellite Office in Academy Common and deepened ties with all there in a thoroughly friendly atmosphere.