2016 New Year's Greetings from the Chairman of Board of Trustees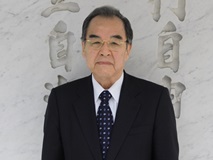 A Year for Taking up Challenge, Without Fearing Change
Kensou Hidaka
Chairman, Board of Trustees, Meiji University
As we enter the New Year, I would like to send my greetings to all of you. On January 17 of this year, Meiji University will mark the 135th anniversary of its founding. I realize that this, too, would not have been possible without the support of our students, faculty, more than 530,000 graduates, as well as everyone who loves Meiji University, and would like to express my heartfelt gratitude to all of you. In this milestone year, I would like to reaffirm our commitment to doing our utmost for the advancement of Meiji University.
At present, Meiji University is promoting projects toward realization of the Meiji University Long-term Vision formulated in 2011. The aim of the Vision is "a university that will be an international hub for fostering internationally-minded individuals and international exchanges, and realize education and research that nurture strong and bright individuals who will succeed on a global scale." Under the Long-term Vision, Meiji University has deployed a global strategy that includes collaboration with international universities, establishment of the ASEAN Center, and selection for the Top Global University Project. As a result, in comparison with the situation in the 2009 academic year, when it was selected for the Global 30 Project for establishing a university network for internationalization, Meiji University has seen a two-fold increase in the number of international students admitted and a three-fold increase in that of Meiji University students going overseas for study. In addition, we are expanding "bonds with Meiji University" on a global basis, as exemplified by the increase in the number of partner universities and the successive formation of overseas alumni organizations and Shikon groups. In 2016 as well, we are determined to continue swiftly promoting internationalization programs.
Meanwhile, Meiji University faces a host of issues. We must not ignore the financial problems, which are a particularly urgent issue. The external environment is greatly changing, with an accelerated decline in the population of 18-year-olds, tighter management of admission quotas, and a hike in the consumption tax. We are taking various measures to close the gap between imputed income and expenditures. At the same time, however, we must make plans and investments that look to the future for such things as the establishing of education and research facilities. We certainly do not have the time to stand idly by. Meiji University is currently pressed with the need to discern the proper scale of projects, select some projects and reject others, and make tough decisions accordingly.
In our 135-year history so far, Meiji University has faced many difficulties and predicaments. Our illustrious predecessors nevertheless faced these difficulties with courage and wisdom, continued to take up challenges, and overcame these predicaments. To realize our Long-term Vision, we too must continue to take up challenges without fearing change. We are living in an uncertain age with an unclear outlook for the future. This is precisely why we must have the courage to blaze a trail ever forward.
So that Meiji University will continue to respond to the mandate of society. I ask all of you who love Meiji University for your continued generous support and cooperation.
I would like to conclude my remarks by wishing you all good health and happiness in 2016.