2016 New Year's Greetings from the President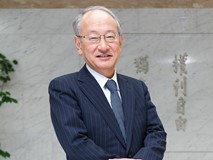 Now is the Time to Advance into the World, With the Spirit of our Founders in our Hearts!
Kenichi Fukumiya
President, Meiji University
I would like to first take this opportunity to extend to you my greetings and best wishes for the New Year. Again this year, I hope to move forward with all of you. I am counting on your support to this end.
When looking back at 2015, it was a year in which we steadily solidified our footing for making a leap into the future. On the education front, we continue to execute a program of Comprehensive Educational Reform, which aims for a qualitative conversion of education at Meiji University and an increase in its global competence. This program, which I have been promoting since my instatement as President, has reached a stage where we are able to issue press releases about changes in class timetables and the academic year beginning in 2017. Although there is not much time remaining before its instatement throughout Meiji University, this far-reaching educational reform will undoubtedly provide the foundation for our future educational potential. In addition, it is also indispensable for us in order to attain the objectives posted under the Top Global University Project. This year as well, I will continue to do my best so that the sight of students brimming with Frontier Spirit for the Future taking wing to the world from the Surugadai Campus where white clouds billow in the sky becomes a commonplace one.
On the research front, in addition to an increase in the preliminary determination of scientific research expenditures, there are an increasing number of projects at Meiji University that are garnering the attention of society as a whole. I am determined to establish and enhance support systems to allow further promotion of research with this sort of distinctive, creative, and advanced character. As can be gathered from the results of research in recent years, Meiji University has many teachers with solid research capabilities, meaning teachers who are able to act on the global stage as brightly shining individuals. I intend to elevate the research capabilities of Meiji University to world-class levels by further heightening these capabilities.
This year, Meiji University will be celebrating the 135th anniversary of its founding. In this milestone year, I believe we are at a juncture for once more reflecting on the thinking of our founders. Misao Yashiro, one of our founders, reportedly made the journey from Sabae to Tokyo on foot, over a period of 12 days. Although no written records remain, Tatsuo Kishimoto and Kozo Miyagi probably did the same. The thoughts and aspirations that swelled in their hearts during their journey bore tangible fruit with the establishment of Meiji Law School after their encounter with each other at the Southern College of the University. Our founding spirit imbued with the ideals and passions of the three constitutes a philosophy that has not faded one bit even in contemporary society. Even after the passage of 135 years, it is the immutable foundation of Meiji University.
Now more than ever, it is imperative for us to achieve sustained advancement with the ideals of our founders in our own hearts. I hope we continue to be a university that attracts students with high aspirations from all parts of Japan and all countries of the world. Let us make a new start from here as a university that paves the way to the next age and communicates its ideas and findings to the whole world.