Induction of the late Mr. Takizo Matsumoto, former manager of the Meiji University Baseball Club, into the Baseball Hall of Famers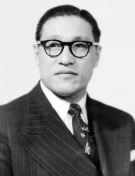 Mr. Takizo Matsumoto (photo courtesy of the Baseball Hall of Fame and Museum)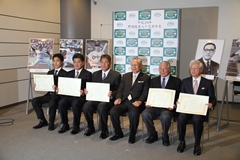 Manro, Mr. Matsumoto's eldest son (second from right)
On January 18, a press conference was held to announce people selected for induction into the 2016 Hall of Famers at the Baseball Hall of Fame and Museum (in Tokyo's Bunkyo Ward). One of those induced was the late Mr. Takizo Matsumoto (1901 - 58), a former manager of the Meiji University Baseball Club, who made a vital contribution to promotion of baseball after the war.
Mr. Matsumoto was manager when the Meiji University Baseball Club made its round-the-world tour in 1929. After graduation, he taught classes as Associate Professor and Professor at Meiji University, and was appointed to the Meiji University Board of Trustees in 1946. In addition, he stood for election to the House of Representatives in the first postwar elections, and was elected a total of five times. In government, he served as a parliamentary vice-minister for foreign affairs and deputy chief cabinet secretary. He also served as a member of the Board of Trustees for the Japan Sports Association over the years 1947 – 58 and was deputy chairman of the Amateur Baseball Association over the years 1955 – 58.
Aside from baseball, he made a vital contribution to the promotion of track and field sports, swimming, and American football. He was also induced in the American football Hall of Fame.