Holding of Go Global Japan Expo 2015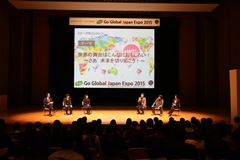 Talk sessions featuring Meiji University graduates active in various fields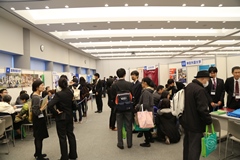 University booths bustling with high school students
On December 20, Go Global Japan Expo 2015 was held on Surugadai Campus of Meiji University. This event brought together 57 national and private universities from all around Japan that are driving globalization in order to convey the appeals of studying abroad to high school students.
The Go Global Japan Expo is held to provide high school students and their parents or guardians with the opportunity to think about the need to foster global human resources and consider university enrollment and studying abroad as a path to a career on a global stage. This, the third installment, was titled "Toward Global Human Resources to Open up the Future – Thinking about University Enrollment and Study Abroad." It consisted of various stage events, booths, and other activities, attracting about 6,500 visitors.
The event featured a wealth of activities that introduced the appeal of studying in other countries, which greatly fired the enthusiasm and motivation of the participating high school students.