Holding of the Japanese Speech Contest for International Students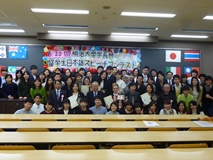 The competing international student entrants and the Japanese students who assisted them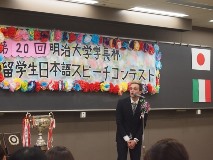 On December 19, Meiji University Japanese Language Education Center held the 20th President's Cup Japanese Speech Contest for International Students at Liberty Tower on the Surugadai Campus. 
The overall theme this time was "What I Learned from Experience of a Different Culture – My Country, Japan, and the Future." It was entered by 15 international students from China, Korea, Taiwan, Australia, Italy, Malaysia, and Thailand. In preparation for the contest, each entrant teamed up with a few Japanese-language advisors and elaborated their speeches for about two months. 
The President's Cup was awarded to Mr. Giordano Epifani (a fourth-year student in the School of Commerce, from Italy) for his speech titled "Let's Think about Why Cultural Misunderstandings Arise!" 
The results of the judging for each prize and the speeches of the student entrants will be available for viewing on the Meiji University website (at a later date).