Yuki Nishino of the Skating Club (Figure Skating) wins fourth consecutive intercollegiate figure skating championship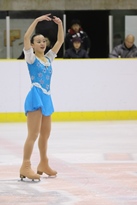 Nishino defended her women's intercollegiate skating title right up to her last year (photo courtesy of Meiji University Sports).
Yuki Nishino (fourth-year student in the School of Political Science and Economics) of the Athletic Association's Skating Club (Figure Skating) competed in the 88th Japan Collegiate Skating and Ice Hockey Tournament held between January 5 and 9.
Nishino had announced that she was going to retire from competition after competing in this tournament. She ended her collegiate skating career in grand style, with a total score of 166.16, a personal best, winning the tournament for an unprecedented four years in a row.