"MilboxTouch" is the only selection from a Japanese company chosen as a VR & AR category finalist at the American SXSW Interactive Innovation Awards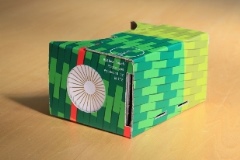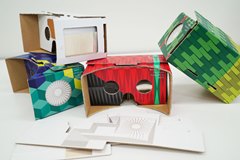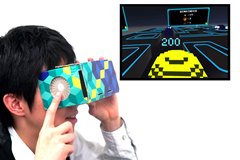 Meiji University School of Interdisciplinary Mathematical Sciences Professor Homei Miyashita and Research Associate Kunihiro Kato of the School of Science and Technology jointly developed "MilboxTouch," cardboard VR goggles equipped with a touch interface, with WHITE Inc. (head office: Meguro-ku, Tokyo; reference URL: http://255255255.com/). In connection with "MilboxTouch," WHITE Inc. has been selected as the only Japanese company to be a finalist in the Interactive Innovation Awards VR & AR category established by SXSW (South by Southwest), one of the world's largest music, film and interactive festivals, which is held every March in Texas, USA.
The award winners are scheduled to be announced on March 15, 2016, US local time, at the 19th SXSW Interactive Innovation Awards Ceremony.
■MilboxTouch
MilboxTouch is a pair of touch interface mounted cardboard VR goggles jointly developed by WHITE and Meiji University, which applies ExtensionSticker technology (*1) Meiji University research results. By touching a pattern printed in conductive ink on the side of the Milbox casing, users can operate a smartphone installed within the goggles. By changing how the pattern is touched, it is possible to execute various smartphone input operations such as tapping, scrolling, and swiping, from the goggles. Although currently only a prototype, WHITE Inc. is planning to sell the product in anticipation of use for games and other applications.
*1) ExtensionSticker
Technology developed by theMeiji University Miyashita Lab which enables the transfer of touch input from outside the touch panel by simply attaching to the touch panel display. (Patent pending: Unexamined Patent Application 2016-015129: title of invention "input device, input system, information processing equipment, and head-mounted display")
(Miyashita Lab:
http://miyashita.com/
) (ExtentionSticker technology:
http://miyashita.com/?cat=38
)
■SXSW Interactive Innovation Awards
SXSW is a long-established event that began as an indie music festival in 1987, subsequently adding film and interactive festivals, and is now one of the largest festivals in the world, drawing approximately 100,000 people over a 10 day period. It is also a business event, with exhibitions, parties, and networking events taking place throughout the town when the event is held. The Interactive Innovation Awards are one of the many awards in the interactive field, which seek to recognize the world's most advanced innovative ideas. In 2007, Twitter received the Web Award in the interactive category, which served as a trigger for global notoriety. Airbnb and Pinterest, now widely used throughout the world, were also award recipients in the same category. For these reasons, it is also currently famous as a gateway to success for startups boasting the latest technology.
Profile

Homei Miyashita
Professor, Department of Frontier Media Science, School of Interdisciplinary Mathematical Sciences, Meiji University
Born in Firenze, Italy in 1976. Miyashita majored in Image Science at Chiba University and music composition in graduate studies at the University of Toyama before receiving his doctoral degree (Knowledge Science) and graduating with honors from the Japan Advanced Institute of Science and Technology. His fields of expertise are human-computer interaction and entertainment computing. He is working for the "democratization of expression" through research to expand human powers of expression.
Miyashita was appointed to the School of Science and Technology at Meiji University in the 2007 academic year. He transferred to his current position in the Department of Frontier Media Science, School of Interdisciplinary Mathematical Sciences, in the 2013 academic year.