Selection of students in the School of Political Science and Economics for an award in the 5th Student Tourism Paper Contest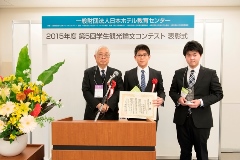 (In the middle of the photo: Shuma Ikeno; at right: Kyotaro Yonenaga)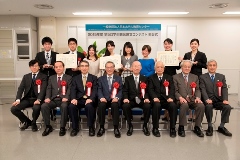 On February 2, 2016, Shuma Ikeno (representative) and Kyotaro Yonenaga, both being third-year students in the research seminar led by Dr. Takumi Takeda in the School of Political Science and Economics, were presented an award (the Japan City Hotel Association Chairman's Award) in the 5th Student Tourism Paper Contest. The award ceremony was held on February 16 as part of the 44th International Hotel & Restaurant Show, which was staged at Tokyo Big Sight (in Tokyo's Ariake district).
The contest was started in 2010 to support policies deployed by the Japan Tourism Agency under the Ministry of Land, Infrastructure, Transport and Tourism. Its objective is to heighten interest and concern in Japan's tourism industry among members of the younger generation.
The paper submitted by Mr. Ikeno and Mr. Yonenaga is titled "Establishment of an Organization to Promote and Support Expanded MICE-related Use of Temples and Shrines – Strengthening MICE Competitiveness by Full Use of Appealing, Unique Venues." It magnificently succeeded in winning an award in the fifth installment of the contest after scrutiny by a ten-member panel of external judges.
(The paper written by Mr. Ikeno and Mr. Yonenaga is available for viewing on
the website of the Japan Education Centre for the Hotel Industry
. )