Notice of the holding of a special lecture as an International Exchange Fund program titled "ISTANBUL: City at the Crossroads"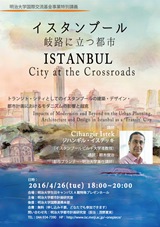 A Special Lecture for the International Exchange Fund, Meiji University will be held as follows.
ISTANBUL: City at the Crossroads
-Impacts of Modernism and Beyond on the Urban Planning, Architecture and Design in Istanbul as a 'Transit' City-

Lecturer: Dr.Cihangir Istek‬, Istanbul Bilgi University
Cities have always been at the crossroads of where people, cultures and goods meet. More than any other of cities, Istanbul has performed this function for several thousand years: a global 'transit' city that interconnects civilisations and continents. This lecture offers a narrative about the past, present and future directions of Istanbul by analysing the impact of modernism and beyond on urban planning, architecture and design.
Date: April 26, 2016 18:00 – 20:00
Venue: Presentation Hall, A417-418, Ikuta Campus, Meiji University
1-1-1 Higashimita Tama-ku Kawasaki-city
Open to the Public / Admission Free
Contact: Toshiya Yamamoto LAB. 044-934-7390 Natsumi Shigeno
http://www.isc.meiji.ac.jp/~onepiece/english/index.html
Poster