Holding of the 2016 Matriculation Ceremony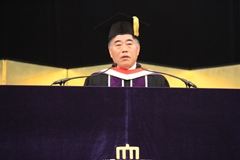 President Keiichirou Tsuchiya giving his address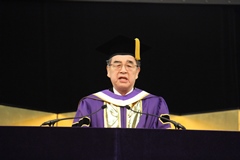 Chairman Kensou Hidaka giving his address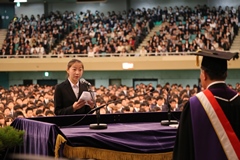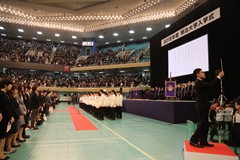 On April 7, Meiji University held the Matriculation Ceremony for the 2016 Academic Year at Nippon Budokan (Chiyoda City, Tokyo).
The ceremony was held in two separate sessions, in the morning and in the afternoon, for both undergraduates and graduate school students. In each part, the proceedings began with an address by Dr. Keiichirou Tsuchiya, President of Meiji University, followed by felicitations by Mr. Kensou Hidaka, Chairman of the Board of Trustees, and a spoken pledge delivered by a representative of the newly entering students.
At the ceremony to welcome the new students, messages of congratulations from Meiji University alumni active in various circles were displayed on a large screen. The messages were from Jun Mizutani, who is a member of Japan's national table tennis team; actress Umika Kawashima; and Kei Inoo, from the pop group Hey! Say! JUMP.
Although it was unfortunately rainy on the big day, the host of new students, their hearts filled with hopes and dreams, took their first step as Meiji University students.
A photo gallery centering around snap shots taken on the day of the ceremony has been published on the Public Relations Office blog
>
Matriculation Ceremony Photo Gallery / part 1
>
Matriculation Ceremony Photo Gallery / part 2