Institute for Global Affairs: Holding of the International Symposium 2016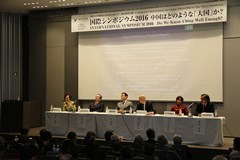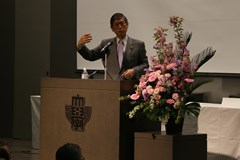 Masahiko Komura, Vice-President of the Liberal Democratic Party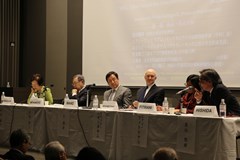 On April 25, the Meiji Institute for Global Affairs (MIGA) held the International Symposium 2016 together with the Tokyo Foundation. Titled "Do We Know China Well Enough?," the symposium was held at the Global Front on the Surugadai Campus.
On the podium at the symposium were Masahiko Komura, Vice-President of the Liberal Democratic Party; Dr. Wang Yizhou, Associate Dean of the School of International Studies, Peking University; Dr. Evi Fitriani, Head of the International Relations Department, Universitas Indonesia; Dr. Eric Heginbotham, Principal Research Scientist, Center for International Studies, Massachusetts Institute of Technology; and Dr. Xiao Geng, Professor, Faculty of Business and Economics and Faculty of Social Sciences, University of Hong Kong. Japan, the United States, China, the ASEAN countries, and other countries are linked in complex relations of interdependence in the Asia-Pacific region. The symposium discussed the implications of these relations for peace, stability, and advancement in the region.
The MIGA is planning to release a report outlining the symposium and a motion video of the proceedings on its website for distribution through the Internet in the near future.
≫MIGA(Meiji Institute for Global Affairs)