Meiji University Track & Field Club to participate in the Hakone Ekiden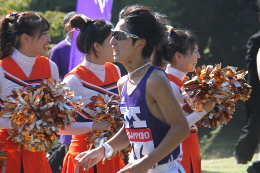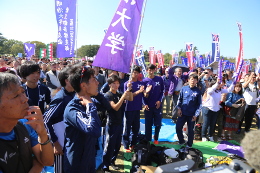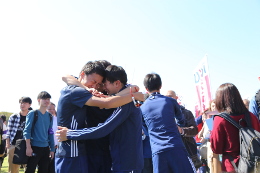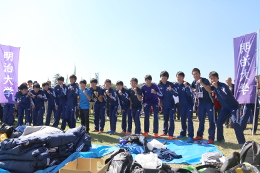 The Meiji University athletes rejoicing over entry in the Hakone Ekiden
The 93rd Tokyo-Hakone Collegiate Ekiden Relay Race (Hakone Ekiden) is going to be held on January 2 and 3, 2017. A preliminary race to decide the colleges that will be participating in it was held on October 15 (the course began in the Self-Defence Force Camp Tachikawa in Tokyo, went through the streets of Tachikawa city, and ended at Showa Memorial Park). Participation in the Hakone Ekiden is limited to 10 colleges.
In the preliminary race, athletes numbering up to 12 per university simultaneously ran the 20-km course, and the times of the top 10 from each university are totaled. This total time of the top ten athletes determines the finish of each college. The top 10 universities win the right to participate in the Hakone Ekiden.
Meiji University finished second in this preliminary race, and is going to enter the Hakone Ekiden for the ninth consecutive year and the 59th time overall.