2017 New Year's Greetings from the President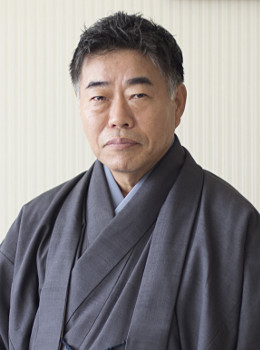 Keichiro Tsuchiya, President,
Meiji University

"Rododo" (in a straightforward and bold manner)



I would like to wish everyone a happy New Year. Last year was one of great advancement for Meiji University. Under the new organization, we mobilized all the capabilities of the entire university and overcame various issues. Meiji University projects were selected by the Ministry of Education, Culture, Sports, Science, and Technology (MEXT) for its Private University Research Branding Project and the Top Global University Project. These projects are steadily yielding results. This year, too, we are determined to make efforts to further build on these substantial advancements in order to make Meiji University an overwhelming presence.
At the end of last year, I met with Raitei Arima, who is the Chief Abbot of the Sokokuji sect of the Rinzai School of Zen Buddhism as well as the Chief Priest of the Kinkakuji and Ginkakuji temples. Although he will turn 84 this year, he was indeed large-minded and full of energy. With brush and ink, he drew a picture of the horary sign for 2017 and wrote some words of wisdom beside it. He said he had already drawn about 500 such pictures, all with different words added. Because 2017 is the year of the rooster, he drew a rooster and a chick. The characters he wrote for me read "rododo." According to him, their meaning is to be straightforward and bold, without putting on airs. As a matter of fact, the more problems there are and the higher the mountains faced, one has to be straightforward and bold and not put on airs. Such a person is sure to find a way to surmount them.
I believe this year will be one for taking a hard look at the foundation of university education and examining ways to strengthen liberal arts at universities.
Seneca, the Stoic philosopher of ancient Rome, averred that liberal arts was the kind of education needed to produce cosmopolitans, that is, citizens of the world. In other words, the essence of liberal arts lies in freeing yourself by letting go of the customs and language of the land of your birth and familiarizing yourself with the different cultures and languages of other lands around the world. I also referred to this in my address at our Entrance Ceremony last year. The substance of university education is a full and complete experience of this freedom. Universities teach different languages and physics even to students majoring in the social sciences in order to give them knowledge of how wide and diverse the world is, and of humanity in the context of the universe. Therein lie "global human resources" in its true sense.
That is, to shed the armor of your home country and become a world citizen who can discuss things frankly and admirably with anyone else in the world. This is the real worth of a liberal arts education. To foster the growth of intelligence and sensibility in its students, a university must assure itself of the framework needed for a liberal arts education. By proposing initiatives necessary to this end, I want to bolster the foundations of Meiji University and link this reinforcement to specialized education. I intend to make these proposals in a "rododo," or straightforward and bold, manner.
Let us all join in active discussions to see that the new year leads to realization of this vision. Onward together, toward new horizons.

Keichiro Tsuchiya
President, Meiji University