Receipt of a letter of thanks from the UNHCR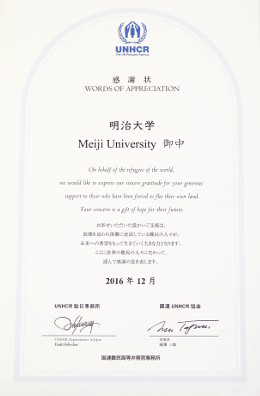 The letter of thanks received from the UNHCR
Meiji University recently received a letter of thanks from the United Nations High Commissioner for Refugees (UNHCR).

Meiji University has long been actively cooperating with the activities of the UNHCR. It concluded an agreement with the Japanese office of the UNHCR in 2010 and has since been offering entrance exams for refugees. In addition, it participates in the UNHCR Refugee Film Festival and holds events for the showing of related films. In 2014, it conferred an honorary doctorate degree on António Guterres, who was then the UNHCR (and is now the UN Secretary-General).

As the kind of human resources needed in globalized societies, Meiji University strives to produce students who are supported by a great capacity for logical thinking backed by deep specialized knowledge, understanding of different cultures, and empathy with love for humankind. In the future as well, Meiji University will continue with its efforts for positive contribution to the international community through collaboration with international institutions.