Induction of Senichi Hoshino, an alumnus of the Meiji University Baseball Club, into the Baseball Hall of Fame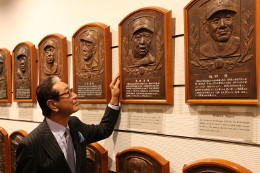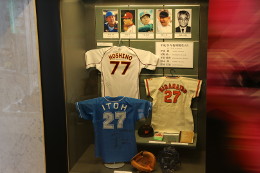 Hoshino (second from left) and the younger son of Goshi (second from right) holding their notices of induction into the Baseball Hall of Fame
On January 16, the Japanese Baseball Hall of Fame and Museum (located in Bunkyo Ward, Tokyo) hosted a press conference to announce the persons inducted into the Hall of Fame in 2017. Senichi Hoshino (a 1969 graduate of the Meiji University School of Political Science and Economics) was selected in the Experts Division in the Players Selection category. As a manager, Hoshino led three teams (Chunichi, Hanshin, and Rakuten) to league titles, and guided the Rakuten team to victory in the Japan series for the first time in 2013. In the Special Selection category, the late Hiroshi Goshi (a 1954 graduate of the Meiji University School of Commerce) was inducted. Goshi served as an umpire in a total of 31 championship games in the Spring and Summer National High School Baseball Tournament (Koushien), and contributed to the advancement of Japan's amateur baseball world. With these additions, the number of Baseball Hall of Famers with ties to Meiji University reached 23.

Baseball Hall of Fame
The Baseball Hall of Fame was instituted in 1959 to permanently celebrate and honor the achievements of people who made a great contribution to the advancement of Japanese baseball. There are two categories of induction: Players Selection and Special Selection. An honorary bronze relief of each inductee is hung in the Hall of Fame Gallery, within the Baseball Hall of Fame and Museum.