Holding of the 2017 Entrance Ceremony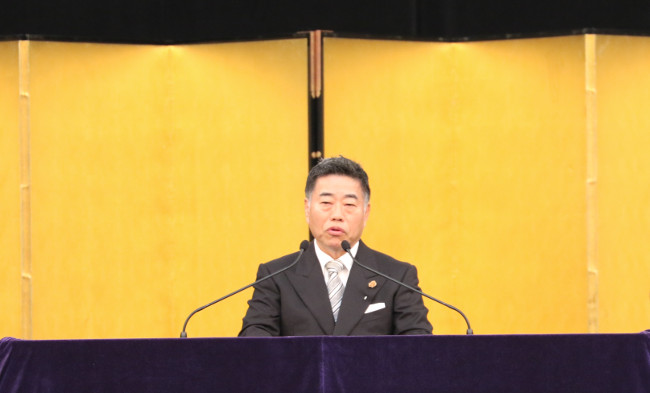 President Tsuchiya addressing the new students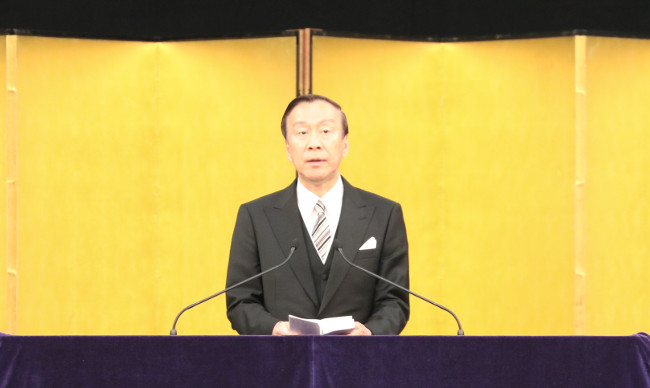 Chairman Yanagiya offering felicitations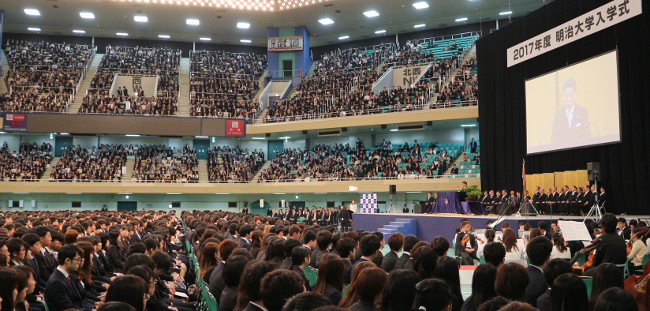 On April 7, Meiji University held the Entrance Ceremony for the 2017 Academic Year at Nippon Budokan (Chiyoda Ward, Tokyo). At the ceremony, 8,358 students (7,319 undergraduate and 1,039 graduate students) took their first step as Meiji University students.
The ceremony was held in two separate sessions, in the morning and in the afternoon, for both undergraduates and Graduate School students. In each part, the proceedings began with a remark by Keiichiro Tsuchiya, President of Meiji University, followed by felicitations by Takashi Yanagiya, Chairman, Board of Trustees, and a declaration delivered by a representative of the newly entering students.
In his address, President Tsuchiya congratulated the students and quoted the following words of Tatsuo Kishimoto, who was one of the founders of Meiji University and its first principal: "Education at Meiji University is not obedience education; it is based on the desires of the students themselves." He went on to note that, right from its founding, Meiji University has always called on both its students and its teachers to consider what they want to learn or research themselves, and to apply themselves to free academic studies based on their desires. He voiced his hopes that the students would make further strides, and urged them forward with these comments: "I want you to awaken to the boundless possibilities inside you. I can assure you that Meiji University will do all it can to support you."
In his felicitations, Chairman Yanagiya related his expectations of the students in the following words: "If you polish yourself and acquire the courage to remain unfazed by most things, your possibilities for the future will widen. I want all of you to fully apply what you have learned at Meiji University, seek a world enabling cooperation that transcends differences of nationality and race, and help to create a future keyed by harmony between humankind and the global environment."
As they left the venue, the students seemed to be filled with anticipations for their new life at Meiji University.
A photo gallery of the newly entering students taken at Nippon Budokan is available for viewing by all at the "MEIJI NOW" information site for Meiji University students.
>
Photo gallery of newly entering students - 1
>
Photo gallery of newly entering students - 2
>
Photo gallery of newly entering students - 3
>
Photo gallery of newly entering students - 4
>
Photo gallery of newly entering students - 5