Partnership agreement with AIT (Thailand)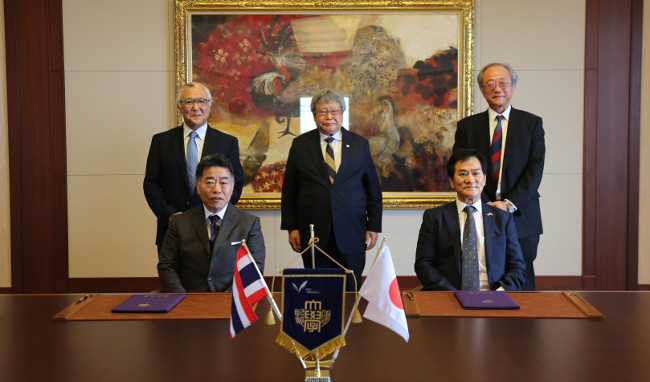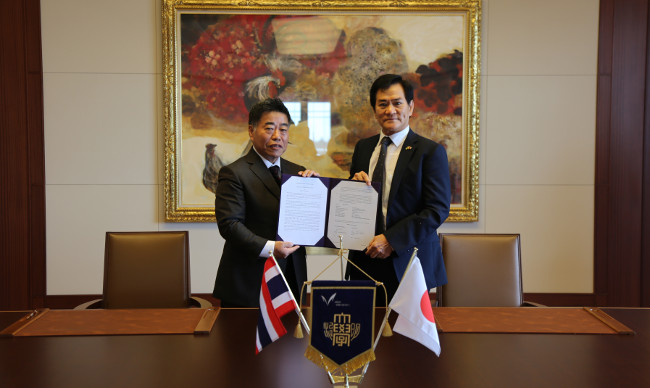 (Left)President Keiichiro Tsuchiya (Right)President Worsak Kanok-Nukulchai
On April 10, President Worsak Kanok-Nukulchai and Vice President Kazuo Yamamoto of the Asian Institute of Technology (AIT) in Thailand visited the Surugadai Campus for a talk with a group led by Meiji University President Keiichiro Tsuchiya and concluded an interuniversity partnership agreement. There are expectations for future academic exchange and joint research between their teachers as well as implementation of student short-term study abroad programs and internships.

During the talks, President Tsuchiya mentioned the adoption of the Meiji University project titled "Creation of Innovative Educational System for Sustainable Society and Urban Growth" by the Ministry of Education, Culture, Sports, Science and Technology in the FY2016 "Re-Inventing Japan Project: Support for the Formation of Collaborative Programs with ASEAN Universities" in the Type B category (promotion of interuniversity exchange in the ASEAN region) as well as the Meiji University ASEAN Center (on the campus of Srinakharinwirot University). He also commented, "I hope that today will serve as an opportunity for further development of relations between the two universities."

In response, President Worsak stated that, "we hope to engage in efforts that transcend borders for critical issues such as climate change that cannot be resolved by one country alone and to further advance international cooperation in the future," expressing his desire to strengthen relations with Meiji University.