Table Tennis Club: Masataka Morizono wins silver medal at the World Table Tennis Championships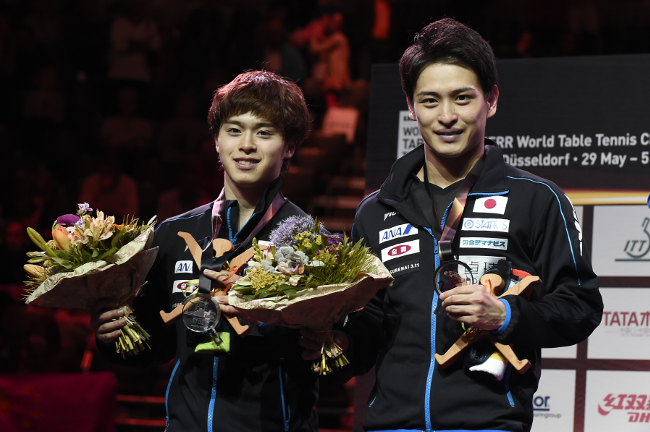 Silver medal winners Morizono (left) and Oshima (Photo by Itaru Chiba/AFLO)
The 2017 World Table Tennis Championships (individual events) were held in Düsseldorf, Germany from May 29 to June 5. Masataka Morizono, a member of the Meiji University Athletic Association Table Tennis Club (a fourth-year student in the School of Political Science and Economics) won the silver medal in the men's doubles event.
Morizono teamed up with Yuya Oshima and the two played against the Chinese pair of Fan Zhendong and Xu Xin in the final. In each game, they grabbed the lead in the beginning but were overtaken toward the end. They came in second place after winning one game and losing four. It was the first time since 1969, 48 years ago, that a Japanese pair took the silver medal in this event.
The Koki Niwa (a 2017 graduate of the School of Political Science and Economics) and Maharu Yoshimura pair won the bronze medal in the same event.