American Film Showcase co-hosted with the U.S. Embassy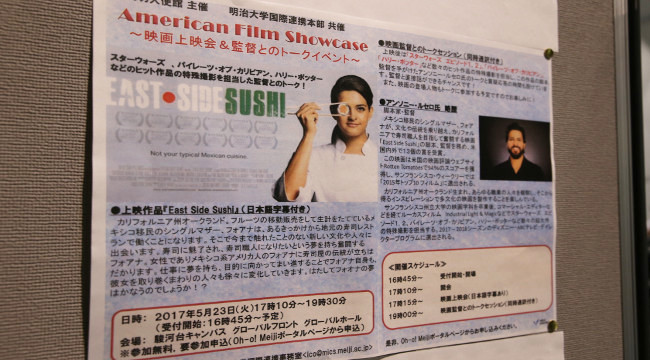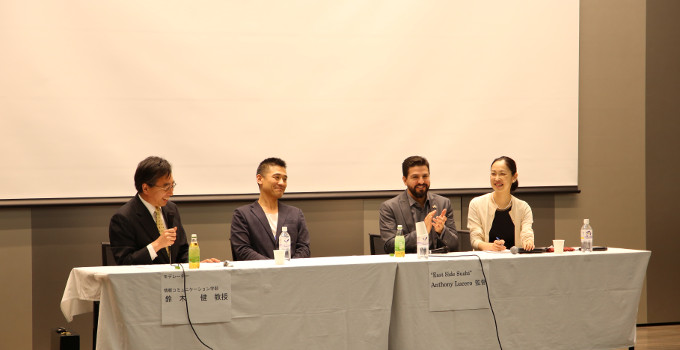 Yutaka Takeuchi, the protagonist of this movie (second from the left) and
director Anthony Lucero (second from the right)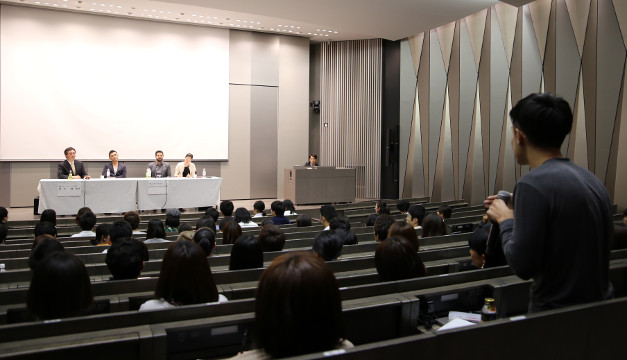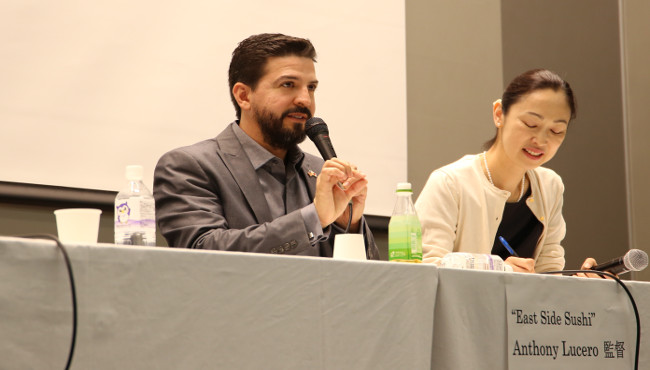 On May 23, the Headquarters of International Collaboration co-hosted an event titled "American Film Showcase – Film Screening and Discussions with the Director." The event was held at the Global Front on the Surugadai Campus. A total of 90 Meiji University students who had made advance reservations attended the event.

The American Film Showcase is a program funded by the U.S. Department of State. It screens U.S. documentary films and independently produced fiction films in countries around the world. It spotlights the role and value of cinema in the promotion of mutual understanding, cooperation, and dialogue. The University of Southern California (USC) is in charge of the planning, and the U.S. Embassy began hosting the film event two years ago. Through the films and dialogue with the creators, the event conveys the importance of diversity and understanding of different cultures.

Professor Takashi Torii of the School of Commerce, who spoke at the start of the event, noted that there has been a movement in recent years to make extensive use of video materials at education sites and that this event was part of that movement. He then stated, that "this is an opportunity to gain a deeper understanding of the intentions of the creators. I hope that you will actively ask questions."

The protagonist of East Side Sushi, the film shown this time, is a single mother who emigrated to the United States from Mexico. It tells the story of how she aspires to become a sushi chef while working in the kitchen of a sushi restaurant in Oakland, California. It portrays her struggles with the different culture and sushi restaurant traditions as she strives toward her goal.

After the screening, there was a talk session with writer and director, Anthony Lucero. The session was moderated by Professor Takeshi Suzuki of the School of Information and Communication. Lucero shared the background to the film's production saying, "I wanted to make a simple yet emotional film about the protagonist fighting against the barriers of race and sex, set in California, a state where multiple cultures coexist." Students then followed with numerous questions. It was a very lively event with not just the director in attendance but also an appearance by Yutaka Takeuchi, who played the role of a person supporting the dream of the protagonist.


Director Anthony Lucero
Anthony Lucero was born and lives in Oakland, California. Lucero studied at the San Francisco State University School of Cinema (a Meiji University partner university) where he received a B.A. in Film. After graduating, he went on to Lucasfilm's Industrial Light & Magic where he worked on visual effects for blockbuster movies such as Star Wars Episode I, Star Wars Episode II, Pirates of the Caribbean, and Harry Potter. He was selected for the 2017–2018 season Disney | ABC Directing Program.