Partnership agreements signed with three ASEAN universities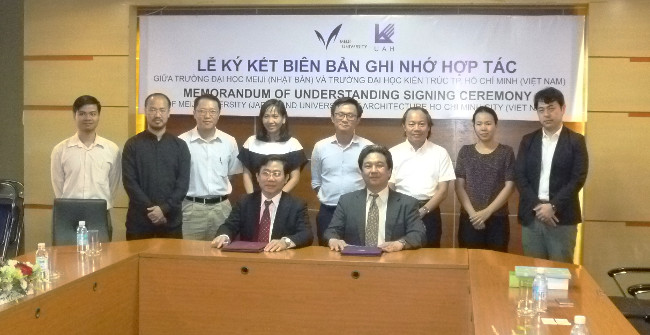 With Ho Chi Minh City University of Architecture Rector Le Van Thuong and others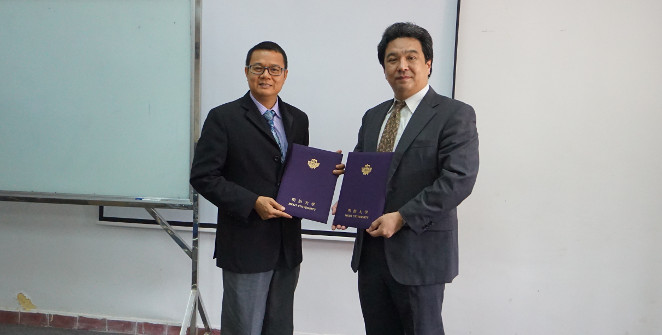 Concluding the agreement with Royal University of Fine Arts Rector Bong Sovath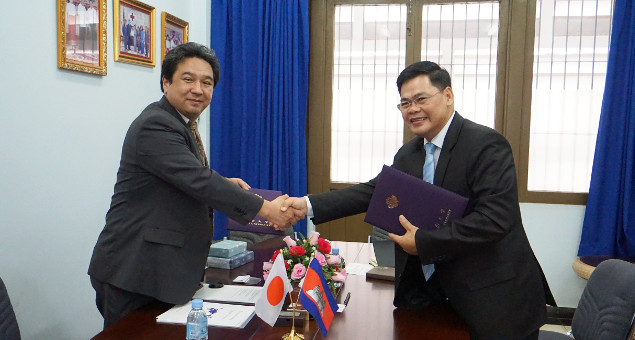 Professor Tanaka shaking hands with Institute of Technology of Cambodia Director OM Romny
Meiji University recently concluded partnership agreements with three universities in the ASEAN region. Professor Tomoaki Tanaka of the Meiji University School of Science and Technology visited the Ho Chi Minh City University of Architecture in Vietnam on March 3, and the Institute of Technology of Cambodia and the Royal University of Fine Arts in Cambodia on May 2.

These agreements are based on the Meiji University project, "Creation of Innovative Educational System for Sustainable Society and Urban Growth." This project was selected for the FY2016 Re-Inventing Japan Project in the Type B category (Support for the Formation of Collaborative Programs with ASEAN Universities) by the Ministry of Education, Culture, Sports, Science and Technology. Going forward, specific projects will be undertaken with these three universities and other partner universities.

The School of Science and Technology and the Graduate School of Science and Technology together make up one of the three divisions participating in the Re-Inventing Japan Project. There are plans for collaborative projects with seven universities in six countries in the ASEAN region, mainly in the field of architecture. In August, Meiji University will be holding a two-city ASEAN joint international workshop in Ho Chi Minh and Bangkok together with the University of Architecture Ho Chi Minh City.

It may also be noted that the three universities noted above are prestigious institutions that represent the respective countries of Vietnam and Cambodia in the field of architecture. For this reason, there are high hopes that the conclusion of these agreements will lead to various programs of academic and student exchange in addition to the Re-Invent Japan Project.