"Experience Wearing a Yukata!"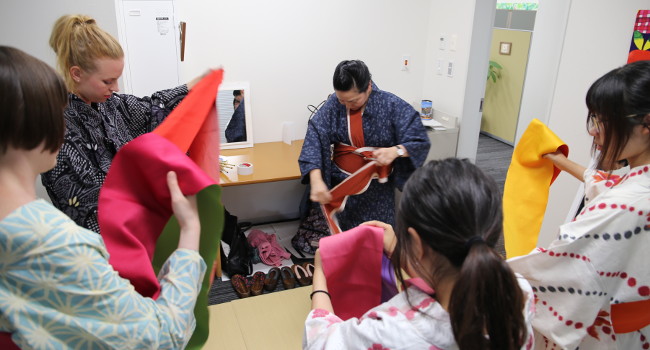 "Tying OBI(sash) was the most difficult part!"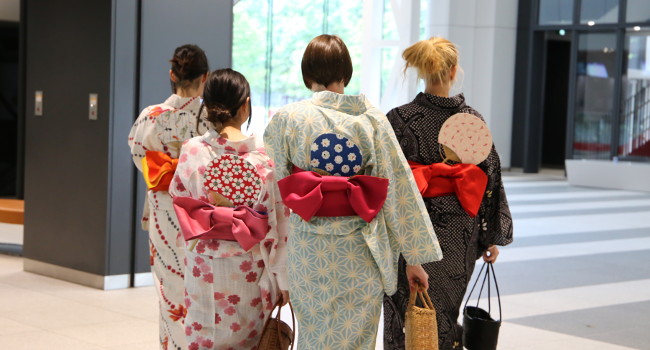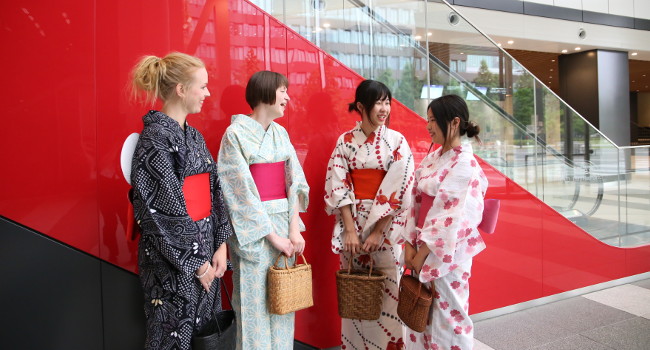 Between June 6 and 30, the Student Counseling Room held the "Experience Wearing a Yukata!" program jointly with the Nakano Research and Educational Support Office (International Collaboration). The program enabled participants to experience Japanese culture by taking up the challenge of putting on a yukata (unlined cotton kimono) by themselves. It attracted mainly international students, but also Japanese students, both male and female.
The fact that students were able to participate in their free time between clases without bringing along a yukata themselves made the program a big hit. This year, its fifth, it was held a total of 13 times on all four campuses(Surugadai, Izumi, Ikuta and Nakano) and drew 60 participants.
Members of the Student Counseling Room staff acted as teachers, showing the participants how to put the yukata on. Under their careful guidance, the participants learned how to adjust the collars and tie the sash. They also learned how to carry themselves, such as how to walk and to hold one sleeve with the hand when pouring water, as well as how to fold yukata. The program took about an hour and a half, and gave the participants a distinct feel for summer in Japan.