Courtesy visit by the Croatian ambassador to Japan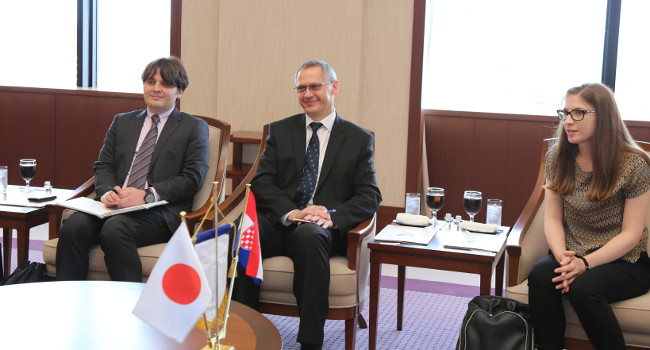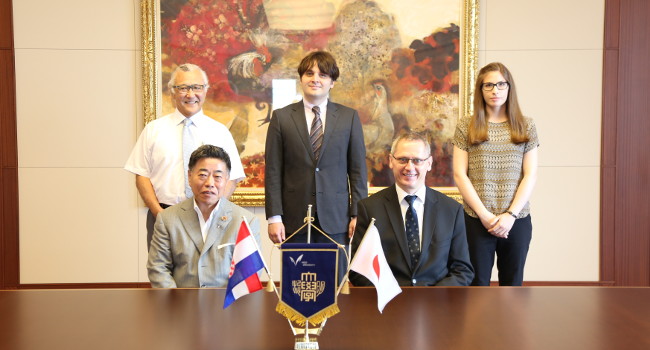 Receiving a visit by Dražen Hrastić, the ambassador of Croatia to Japan, on June 26, Meiji University President Keiichiro Tsuchiya and Vice President (International Affairs) Kosaku Dairokuno exchanged views with the ambassador in the Guest Room on the 23rd floor of Liberty Tower on the Surugadai Campus.

Ambassador Hrastić expressed his gratitude for the European Higher Education Fair held at Meiji University in May, and described the fields of expertise and strengths of universities in Croatia. With Rijeka, a Croatian city which is the largest port city in Central Europe, and Kawasaki celebrating the 40th anniversary of their sister city partnership, Ambassador Hrastić was eager to see the conclusion of an interuniversity agreement with Meiji University, which also has a campus in Kawasaki.

President Tsuchiya welcomed the visit and commented that "Meiji University has ten undergraduate schools and many scholars and researchers who are active on the frontlines of their respective fields. I hope we can conclude an interuniversity agreement and pursue individual projects in fields where there are deep interconnections." He then presented his idea of actively promoting student and research exchange as well as building cooperative systems, especially in the fields of agriculture, life sciences, and animation.