Lecture by Kabuki Actor Tamasaburo Bando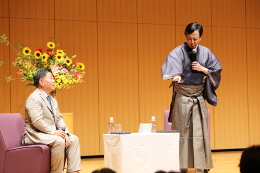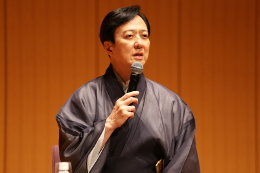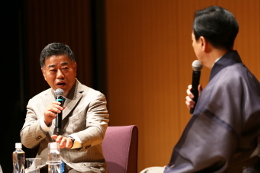 On July 26, Meiji University Liberty Academy held a program featuring a lecture by Tamasaburo Bando, a Kabuki actor and holder of an important intangible cultural property (i.e., a Living National Treasure). The program was titled "Open Lecture by Tamasaburo Bando – What it Means to Perform 2017." This year's program was the sixth in the series, and attracted an audience of about 1,000.
The first part was devoted to the lecture by Mr. Bando.  The second part consisted of a dialogue with Meiji University President Keiichiro Tsuchiya, who has deep knowledge of Japan's classical performing arts. The two engaged in a similar dialogue in last year's program as well, and their witty and free-wheeling exchanges drew laughs and sighs of admiration from the floor. At the end of the dialogue, a Student Counseling Room session was held with members of the audience in response to a proposal by President Tsuchiya, who asked Mr. Bando if he would offer advice to students.