Architecture and Urbanism Program, Graduate School of Science and Technology: Joint international workshop in Ho Chi Minh City and Bangkok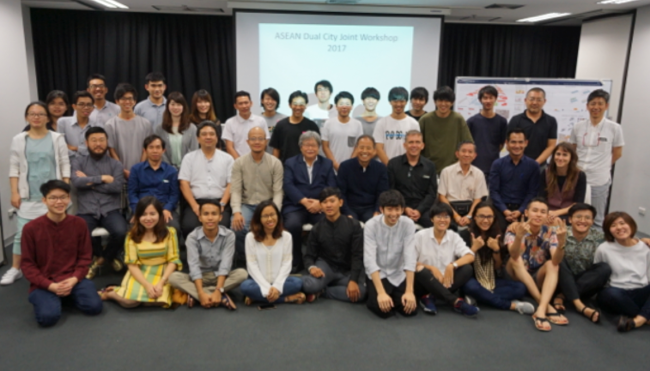 A group photo after the final review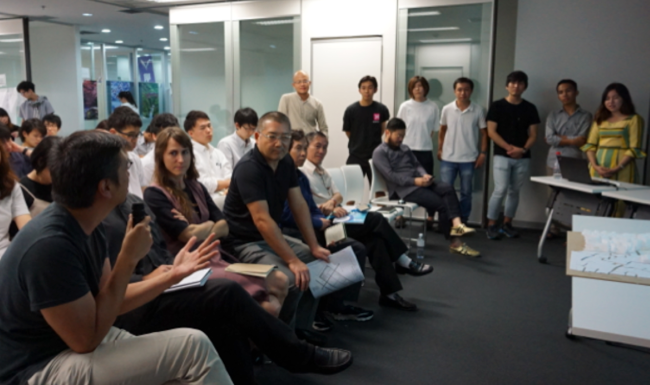 Photo at the final review, where there was a lively airing of criticism and views
The Architecture and Urbanism Program in the Graduate School of Science and Technology held ASEAN Dual-city joint workshop over the period July 31 – August 7. This workshop is held on a continuous basis as an international practical educational program. It is conducted in conjunction with Design Studio C, a design seminar course in the Architecture and Urbanism Program. In addition, this time, it was organized as an outbound program and an intraregional exchange program in the Re-Inventing Japan Project. Last year, Meiji University's project was selected for the Re-Inventing Japan Project, which is being implemented by three schools and departments.

The first half of the eight-days, the workshop was held in Ho Chi Minh City (at the University of Architecture, Ho Chi Minh City), and the second half, in Bangkok (at the Meiji University ASEAN Center). The workshop was conducted with the participation of 16 teachers and students from Meiji University (under the outbound program), and five teachers and 16 students from partner schools (seven in six countries, under the intraregional exchange program). The session in Ho Chi Minh City focused on an area along canal in District 8 of the city. After touring the site and hearing lectures by administrative authorities and related personnel, the students broke into six mixed groups. The three themes of "Waterfront Development," "Regeneration of Post-Industrial Land," and "Housing" were tackled by two groups each. The participants undertook the whole series of steps, i.e., analyzing the local context, identifying issues and resources, deriving a future vision, and proposing a specific urban and architectural design.

Following interim presentations based on the work in Ho Chi Minh City in the first half, the workshop moved to Bangkok. In the second half, the participants continued with joint work at the Meiji University ASEAN Center. On the last day, the final review was held where the students presented proposals and lively critics exchanged various views. In the final review, nine fourth-year students from the Department of Architecture of Meiji University who just started a program of short-term study in the Faculty of Architecture of Chulalongkorn University also took part as observers. During the eight days, the students learned a lot through the joint work in English and deepened their interchange with students from the partner schools.

In addition, the participating teachers held Faculty Development Workshops on two occasions during the workshop period. These Workshops deepened discussion on strategy for ASEAN Dual-city joint workshop held for four consecutive years and education in the field of architecture and urbanism in each country.
As a reflection of the sustainable development goals (SDGs) adopted by the United Nations in 2015, the participants put together an accord containing seven goals as the outcome of the workshop this year.