Visit from Mr. Maher Nasser from the UN Dept. of Public Information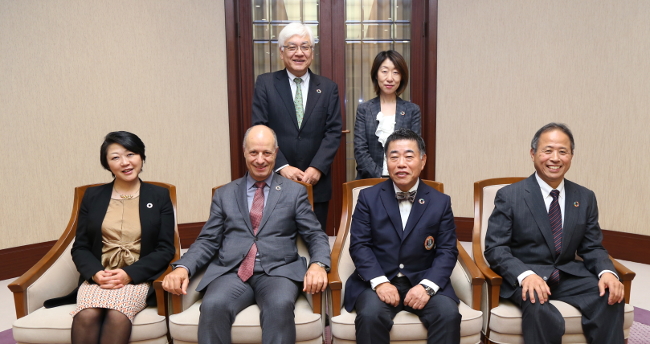 (From left) Ms. Kaoru Nemoto (Director of the UNIC in Tokyo), Mr. Nasser (Director of the Outreach Division of the UN Dpt. of Public Information)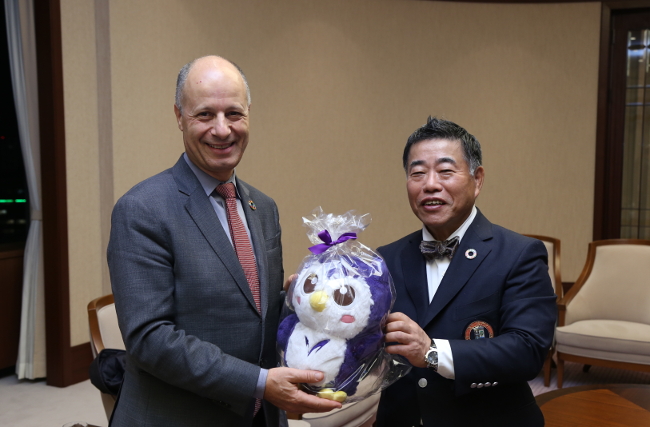 On November 10, Mr. Maher Nasser, Director of the Outreach Division of the United Nations Department of Public Information, and Ms. Kaoru Nemoto, Director of the United Nations Information Centre (UNIC) in Tokyo, paid a visit to President Keiichiro Tsuchiya and other Meiji University personnel at the Surugadai Campus. The group exchanged views on subjects such as closer partnership between Meiji University and UN organizations in connection with assistance for refugees and other areas.

Upon describing Meiji University's approaches to assistance for refugees and other agenda, President Tsuchiya commented, "We have prepared a setup enabling us to address diverse issues, and intend to continue taking approaches to initiatives including coordination with other universities."

Director Nasser expressed his gratitude for the ongoing efforts by Meiji University, and stated, "The whole world must think about how to attain the sustainable development goals (SDGs). A big role must be played by institutions of education, and especially universities. I hope that Meiji University will continue to lead such activities in the context of its relations with the United Nations."

Meiji University began participating in the United Nations Academic Impact (UNAI) program in 2010. Ever since, it has been engaged in multifaceted activities on related fronts, including acceptance of refugee students for special entrance exams under the Refugee Higher Education Program, the holding of the UNHCR Refugee Film Festival, and implementation of the Human Resource Development Program for International Cooperation. This program is aimed at producing human resources capable of addressing and solving issues on a global scale, which are diversifying.