[Japanese Language Education Center] Meiji University Japanese Language Program Winter 2018 Held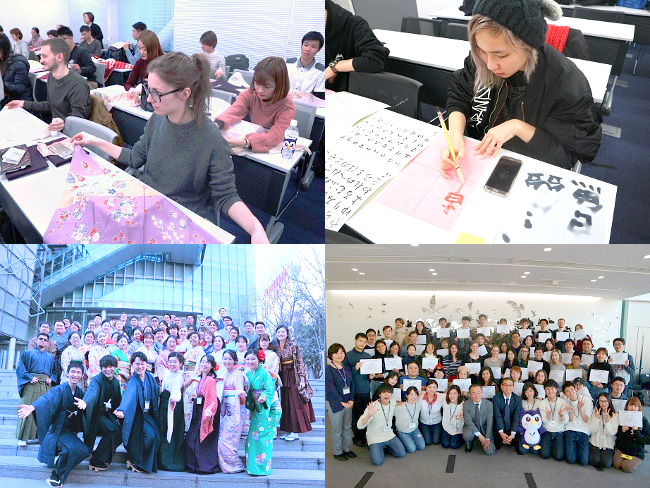 Furoshiki-wrapping experience (upper left), Experiencing Japanese calligraphy (Student Supporters) (upper right), Kimono-wearing experience (bottom left), Closing ceremony (bottom right)

Meiji University Japanese Language Education Center offered the Meiji University Japanese Language Program Winter 2018 over a 16-day schedule from February 5 to February 20. This marked the 16th time the program has been held, and on this occasion, 50 students gathered from 15 countries. The program provided fulfilling and productive training in an international atmosphere, despite the short period of time.

The program comprises of Japanese language classes and field studies/activities. In the Japanese language classes, participants learned "living" Japanese depending on their levels while the field studies/activities saw participants experience furoshiki-wrapping in addition to the kimono-wearing experience, which is always a popular activity, enabling them to learn about Japanese culture while having fun.

Additionally, there is a system in place in this program where Meiji University Japanese student supporters to fully back up the participants. On this occasion also, an environment was provided for participants to engage in exchange with Japanese students while using "living" Japanese, through their participation in Japanese Language Classes, taking the lead in field studies/activities, and life advice. The field study and experiencing Japanese calligraphy were also arranged by the supporters, facilitating natural exchange between the students.

Although it is brief in duration, this program held for individuals who wish to visit Japan and learn Japanese places an importance on putting the Japanese learned to actual use in one's own personal experiences. Going forward, we will continue to further enhance course content to make the program even more effective at experience-linked Japanese language acquisition.