Meiji University France Day (160th anniversary of the commencement of relations between Japan and France) held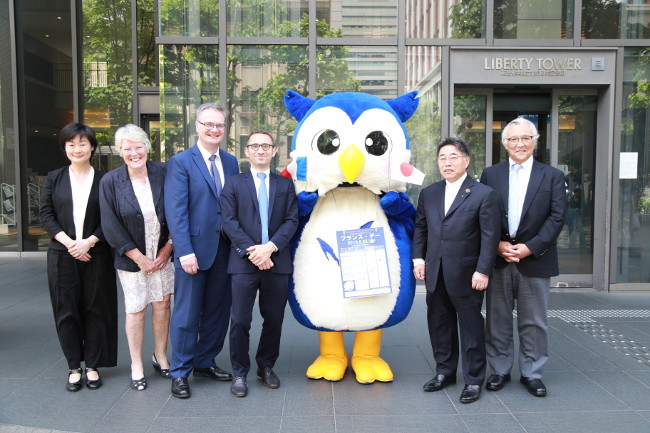 "Meijiro" welcomed officials of the French Embassy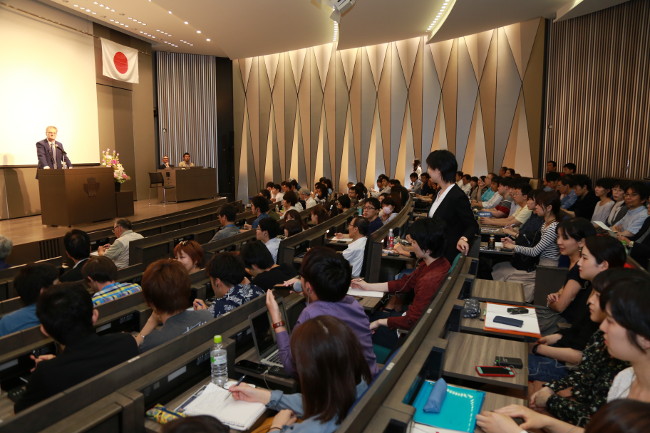 Near-capacity audience at the lecture by Minister Counsellor Lesecq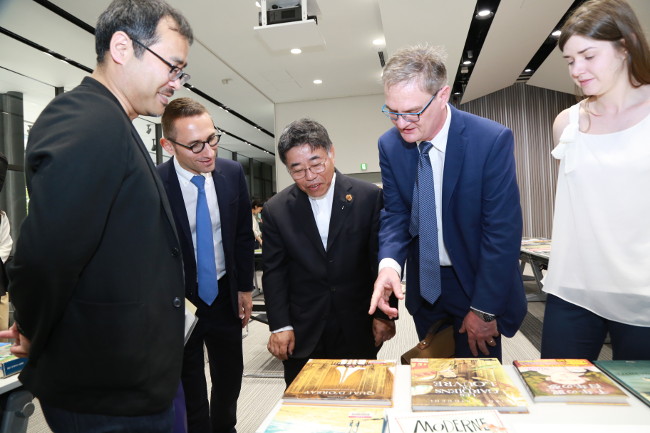 President Tsuchiya and Minister Counsellor Lesecq appreciating the exhibition of bande dessinée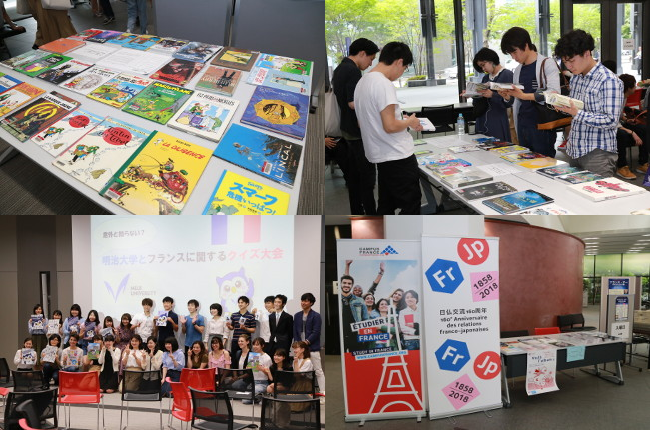 On May 25th at Global Front on the Surugadai Campus, Meiji University France Day was held in commemoration of the 160th anniversary of the commencement of relations between Japan and France. (Co-hosts: the French Embassy in Japan / the French Chamber of Commerce in Japan)

The event marked the 160th anniversary of the conclusion of the Treaty of Amity and Commerce between France and Japan in 1858, whose purpose was to gain a deeper understanding of France in various spheres such as culture, economy and society.
In his address to open the day's events, Meiji University President Keiichiro Tsuchiya referred to the historical story that two Japanese scholars who studied at the University of Paris later founded this university as the Meiji Law School, where students could study French law. Explaining the significance of the France Day, he stated, "Meiji University started with France and still has a connection to France. We want to further strengthen our relationship with France starting with this event."

As the main event, Jean-Baptiste Lesecq, the Minister Counsellor of the French Embassy in Japan, delivered a lecture on the theme: "Bridge from France in Europe to the South Pacific." He spoke about the French economy, which has a major presence in Europe; the politics of French President Macron, who has brought a breath of fresh air to the country; and the role of France in restructuring Europe. Regarding the relationship between Japan and France, he said, "We have built a cooperative and friendly relationship with a special partnership," and concluded, "This is our attitude towards international peace."
Following the minister counsellor's address, lectures on French companies were given by three organizations: the French Chamber of Commerce in Japan, L'OCCITANE and PIERRE HERMÉ PARIS, in addition to a talk on Japanese and French comics by Masato Hara, a translator of "bande dessinée," or French-language comic strips.

A symposium was also held entitled: "From residences to cities – Considering from French and Japanese culture" by Masami Kobayashi, a professor at the School of Science and Technology, with two French urban designers. Other activities included a French film screening, as well as an exhibition of comics and books kept at the Institut français du Japon – Tokyo, a quiz on cross-cultural exchanges by students at Meiji university, and more.
Over 300 people attended the event, which introduced a variety of attractive aspects about France and was a resounding success.